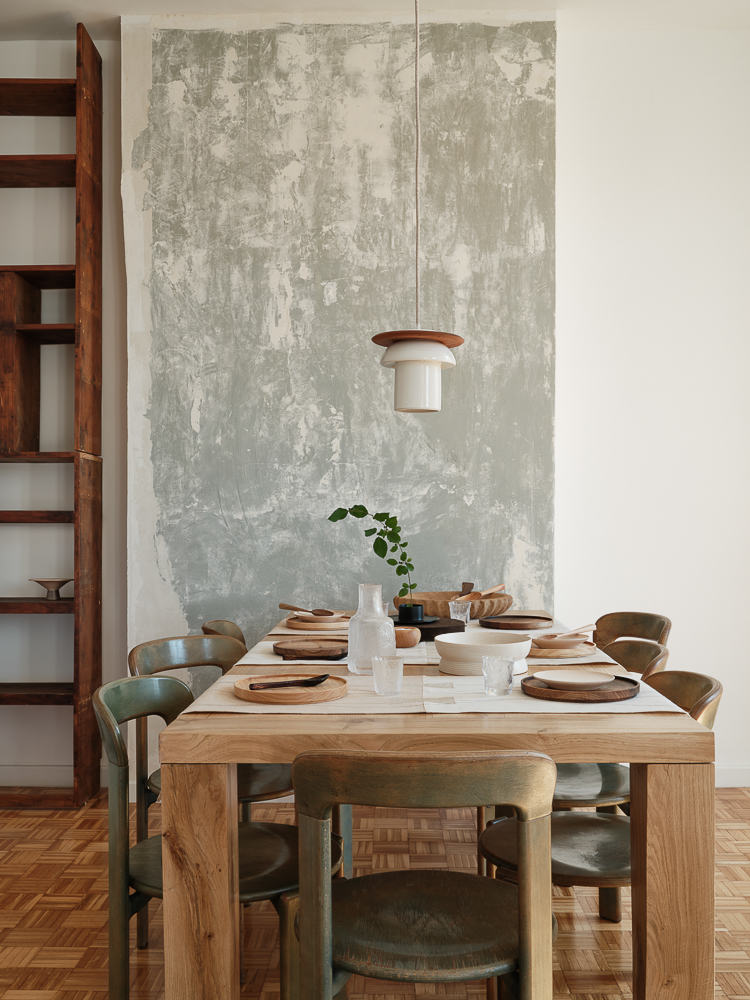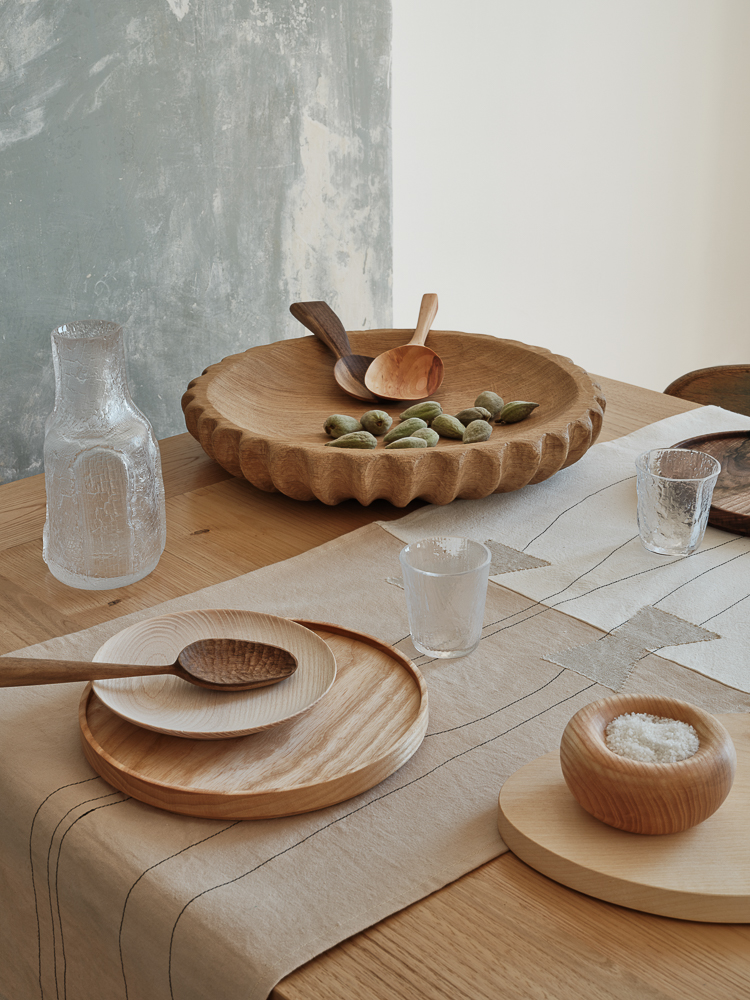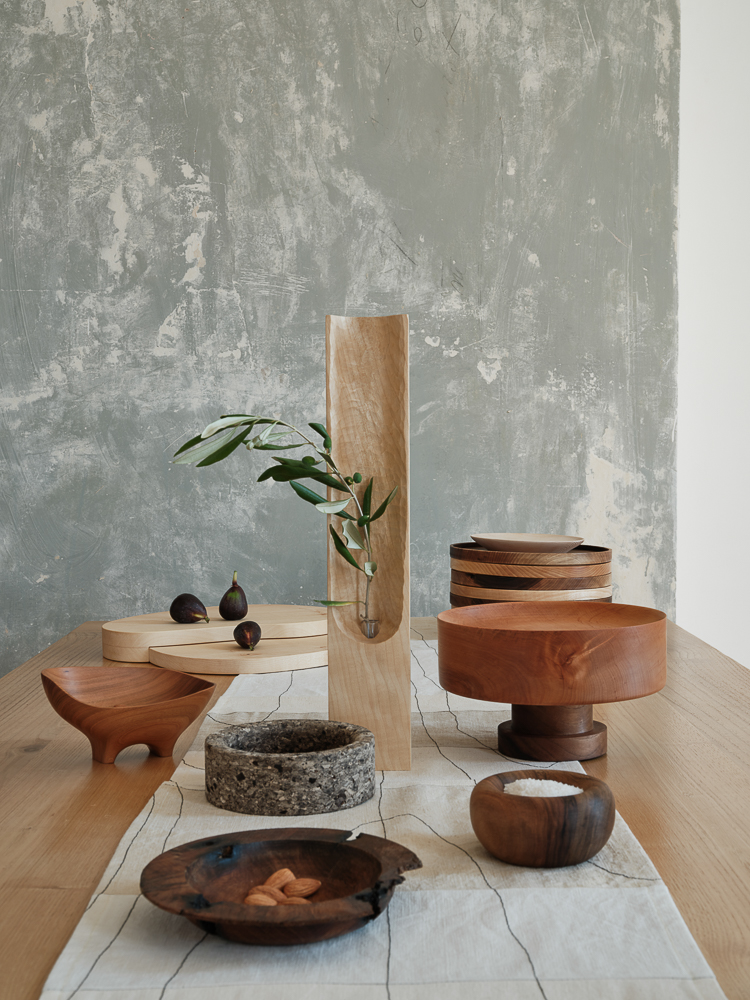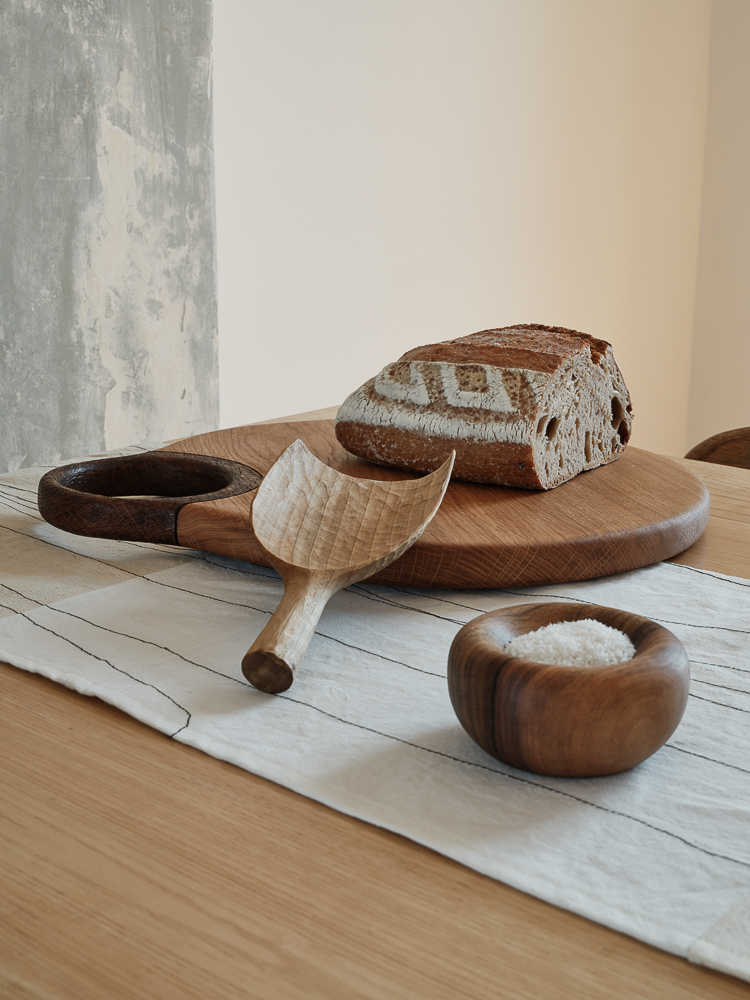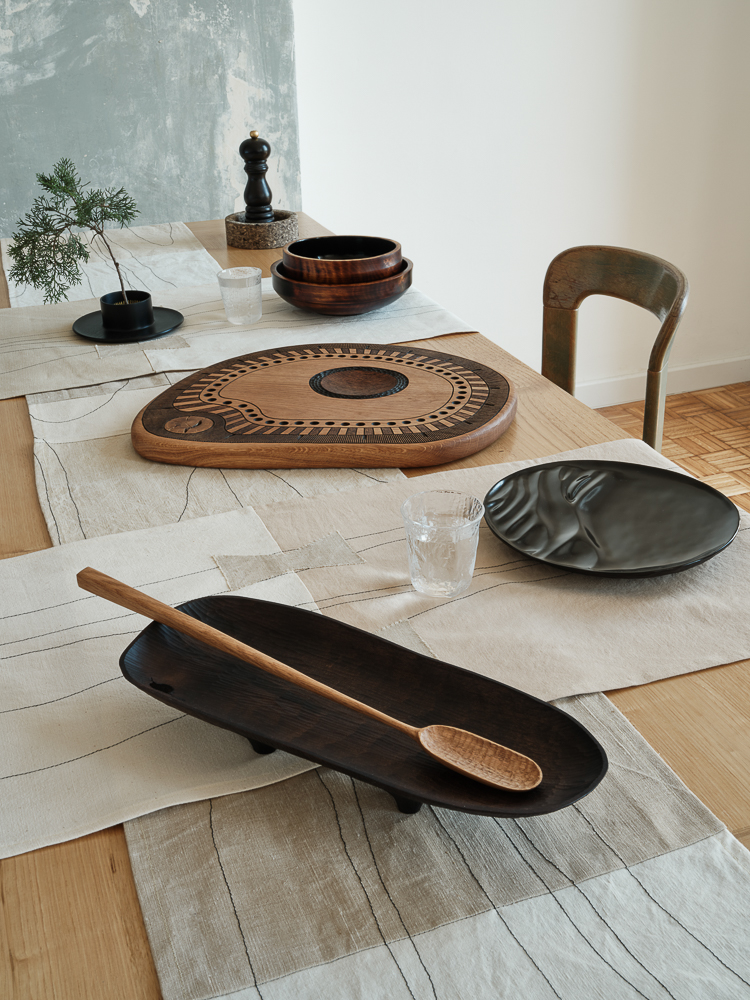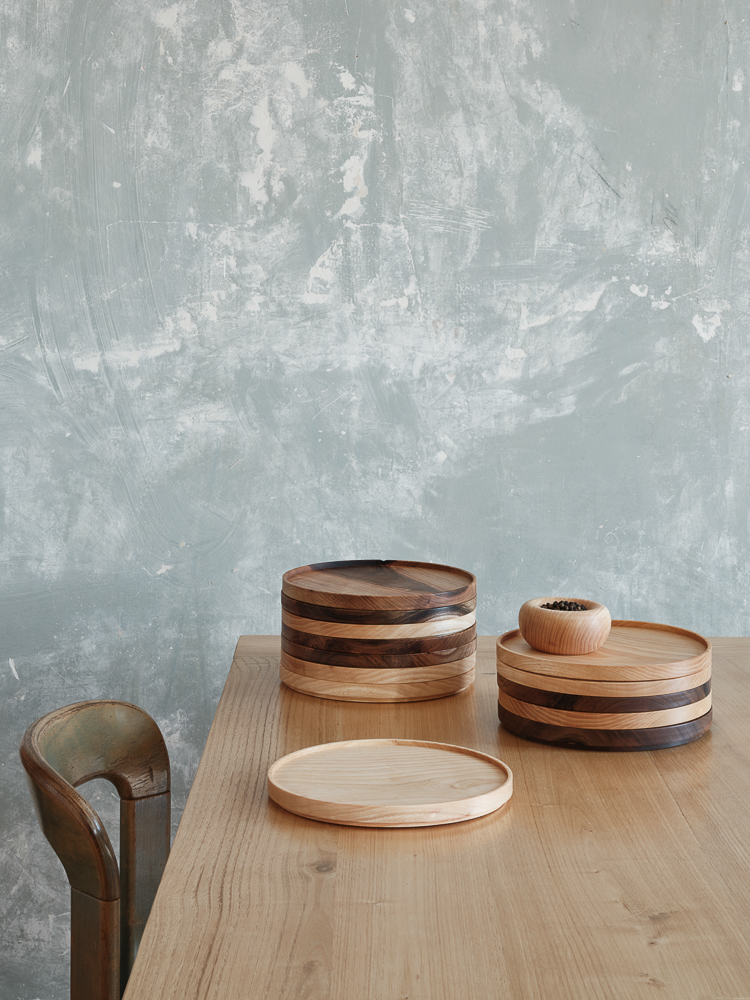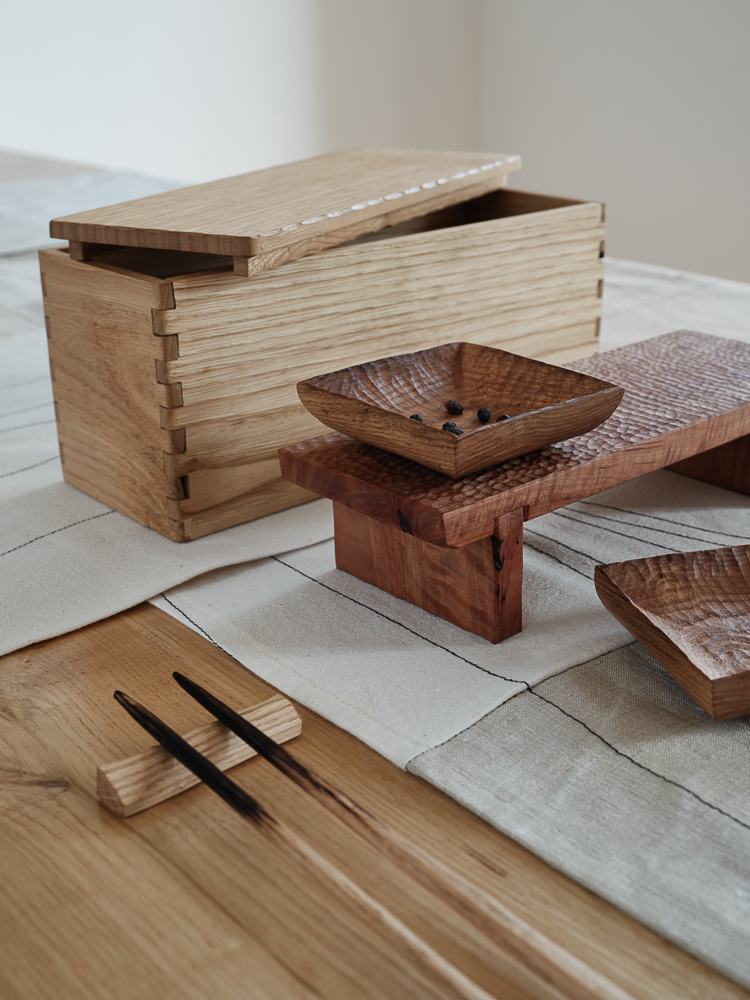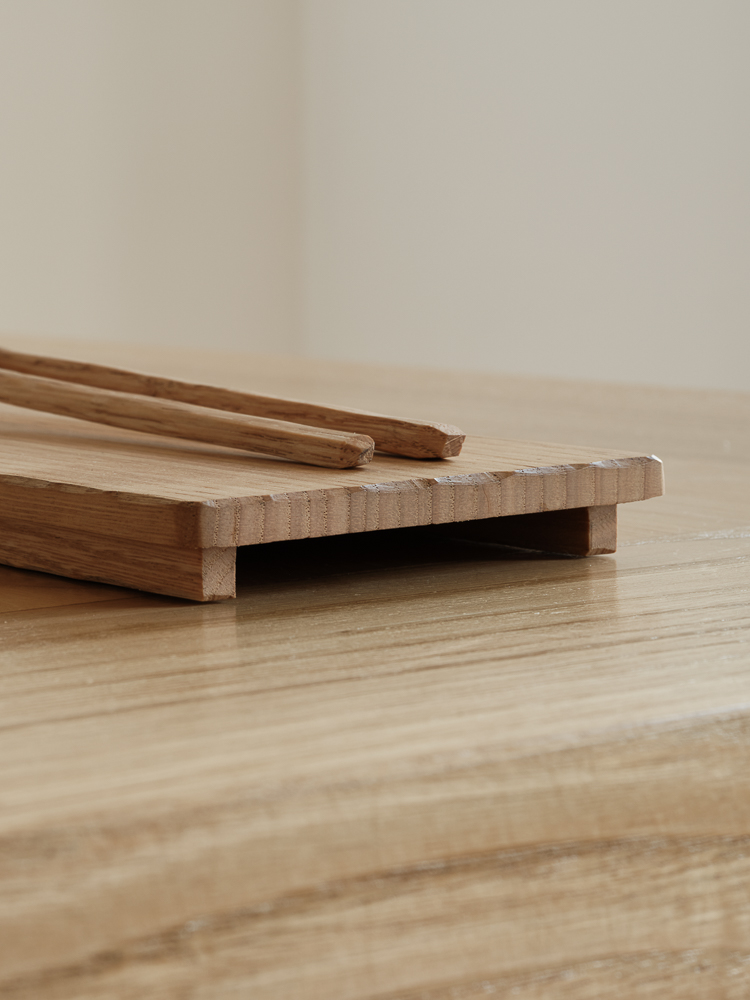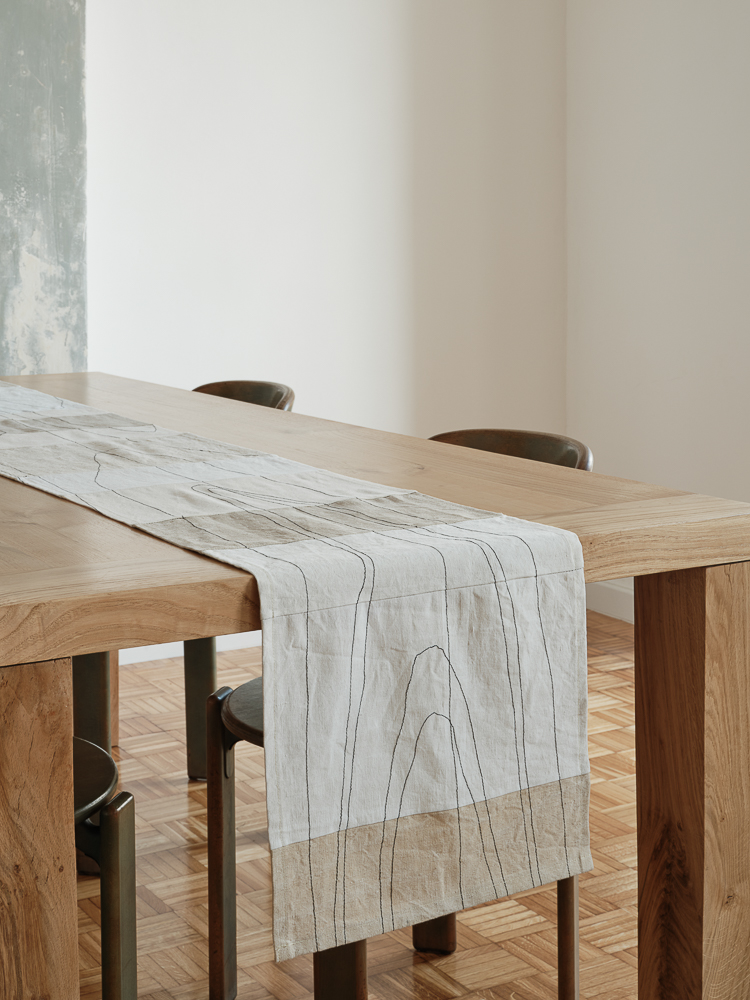 On The Table Selection
OROS Design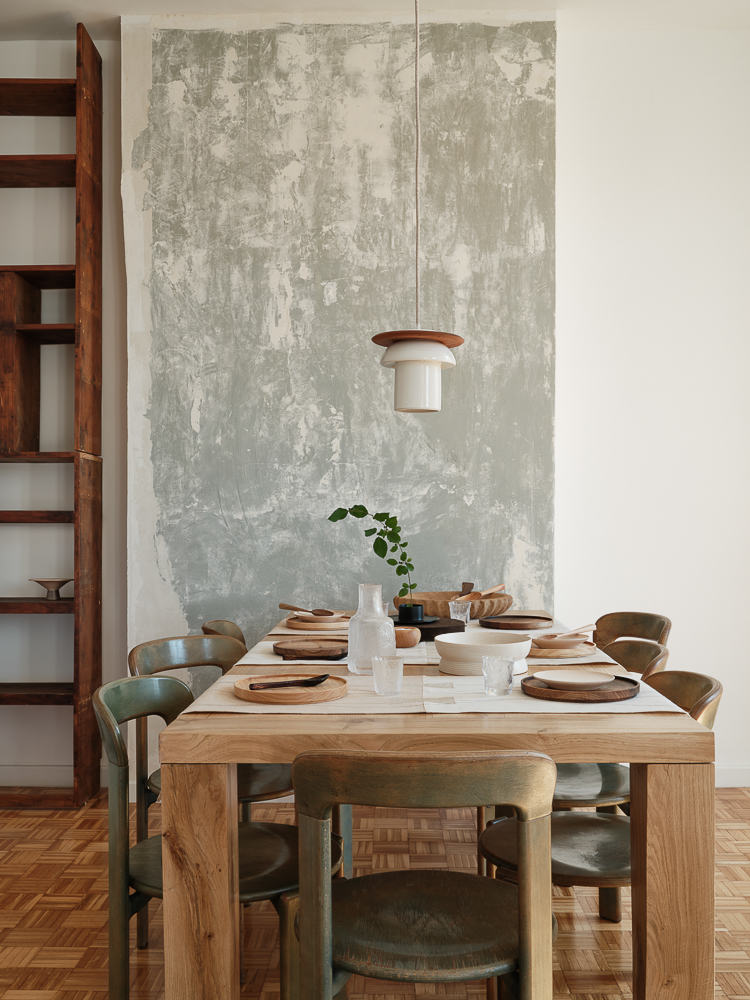 On the theme of tableware, OROS invites several international creators and artisans to offer new perspectives and practices. These pieces, mostly designed exclusively for the OROS Design platform, are presented on our online store from September 9 to November 30. On The Table focuses on the art of hosting and gathering around a table. Moments of exchange and sharing, where the ingredients and materials fuse. Present on a maple tray, serve with a walnut spoon, decorate with ash vases, mix in an oak bowl. So many forms, uses of essences and finishes that mingle for gustatory, visual and tactile pleasure. While dreaming of escape, invite '' On The Table '' creations and know-how from elsewhere.
On pastel tones, the first table presents a traditional dining scene with embroidered placemats by Sarah Espeute. Under the porcelain and cherry wood pendant lamp from Atelier Pok, the OROS Edition plates host smaller ones by Antonis Cardew, as well as protean spoons sculpted by Léa Laborie. To serve the water, Moe Redish created glasses and a carafe whose shapes have been blown into oak molds. The result is pieces that are incredibly textured by the burnt wood. On the front of the table, a large whitewashed bowl by Abigail Castaneda contrasts. Finally, the large oak dish by Atelier Carlès Demarquet brings warmth and texture to the table.
The second table offers airs of Provence. The carved maple of the central soliflore from Benjamin Fély responds perfectly to the warmth of the cherry tree of the small bowl from Etienne Bailleul and that of the alder of the display of Burcalu Studio. A few almonds find their place in the small oxidized oak plate from Pierre Emmanuel Decarreaux when three figs dance on the new maple boards from OROS Edition. The gray hue of the naturally aged cork of Studio Corkinho's container adds texture to the scene. At the same time, we discover a farmhouse bread on an oak board sculpted by Lucas Castex, echoing Ferréol Babin's magnolia spoon.
The third and last scene invites us to escape. On both sides of the embroidered table runner by Sarah Espeute, pieces with ethnic characters call us. The large tray meticulously carved by Lucas Castex stages the plate and bowls from the Sentomono duo whose urushi finish seduces us. On a large quadripod dish sculpted and tinted by Etienne Bailleul, a long spoon from Léa Laborie finds refuge. In the background, a vase patinated by Abigail Castaneda welcomes a branch of cypress that looks like a bonsai. Then, we see a small tray sculpted by Sepa from his Pique Nippon box ...
Pieces to discover here, On The Table tab.
With the participation of: Abigail Castaneda, Atelier Carles Demarquet, Benjamin Fely, Burlacu Studio, Courtney Petley, Dimitri Felouzis, Emma Chorostecki, Etienne Bailleul, Flore Layole, Formel Studio, Gigi Design, Huw McConachy, Jules Lobgeois, Kasia Kmita, Léa Laborie , Lucas Castex, Moe Redish, Poppy Lawman, Sarah Espeute, Sentomono, Sepa, and Studio Corkinho.